home

> marching tetrahedrons


Warning: Missing argument 2 for tab(), called in /customers/6/6/0/johno.se/httpd.www/software/mt.php on line 32 and defined in /customers/6/6/0/johno.se/httpd.www/functions.php on line 3 Warning: Missing argument 2 for tab(), called in /customers/6/6/0/johno.se/httpd.www/software/mt.php on line 33 and defined in /customers/6/6/0/johno.se/httpd.www/functions.php on line 3 Warning: Missing argument 2 for tab(), called in /customers/6/6/0/johno.se/httpd.www/software/mt.php on line 34 and defined in /customers/6/6/0/johno.se/httpd.www/functions.php on line 3 Warning: Missing argument 2 for tab(), called in /customers/6/6/0/johno.se/httpd.www/software/mt.php on line 35 and defined in /customers/6/6/0/johno.se/httpd.www/functions.php on line 3 Warning: Missing argument 2 for tab(), called in /customers/6/6/0/johno.se/httpd.www/software/mt.php on line 36 and defined in /customers/6/6/0/johno.se/httpd.www/functions.php on line 3 Warning: Missing argument 2 for tab(), called in /customers/6/6/0/johno.se/httpd.www/software/mt.php on line 37 and defined in /customers/6/6/0/johno.se/httpd.www/functions.php on line 3

Marching Tetrahedrons
The videos below are .webm format, I use VLC to view them.
2011-05-19
I've been experimenting with blends of various density functions in order to obtain different kinds of landscapes. One personal favorite is the "subterranean caves with a flat floor". I've also abandoned the real-time lighting approach in favor of precalculated ambient occlusion and shadows from an overhead "sun" light source.
Here I've attempted to re-create a camera pass three times, first with only albedo, second with albedo and lighting, and lastly with only lighting.
2011-05-17
More tests of the same, this time using 4 octaves of fractal Perlin noise. The texture mapping is calculated in the vertex shader based on the normals of the triangles (one texture for sides, one for top, one for bottom). The are some issues with normal generation at mesh chunk boundaries.
Here's one with a directional light from directly overhead (lambertian with some fudging), but I really don't like the way it looks.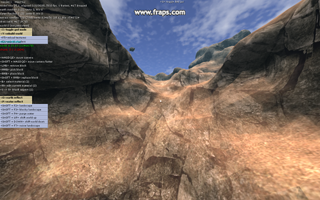 2011-05-12
Below are some tests I've done using Perlin noise and marching tetrahedrons to visualize a landscape. I have prior experience with heightfields and was attracted to the concept of three dimensional datasets (allowing caves, overhanging cliffs, etc).
home
> marching tetrahedrons
contact
: johno(at)johno(dot)se